Home-product:
Walking tractor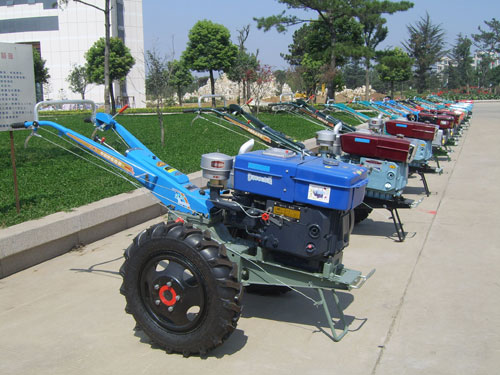 Attention:
please click the following list, to check the details.
SH series walking tractor
Farm tools for SH series walking tractor
'Shuhe' or "SH" Series Walking Tractors:
'Shuhe' series walking tractor is a kind of tractor for traction and drive. They can work at glebe and paddy field of plains, mountains and hilly upland. Equipped with the corresponding farming tools, it can plough, seed, harvest, water pump, transport, sprays pesticides, and so on. It can act as fixed-power with the lighting equipment, operating at night.
To meet different demand, 'Shuhe' 180,185,185 N, N 190,190, ZH195, 1100, and other supporting engine is optional. Additional, the user can choose some farming tools and parts according to different needs, to expand the using range of the tractor.
Walking tractor Introduction:
Two-wheel tractor or walking tractor are generic terms understood in the USA and in parts of Europe to represent a single-axle farm implement, usually self-powered and propelled. Similar terms are mistakenly applied to the household rotary tiller or power tiller that may be wheeled and/or self-propelled but normally is not. A further distinction is seen in the two-wheeled tractor's ability to operate disparate types of agricultural equipment, while rotary tillers are smaller and specialize in soil cultivation. This article concerns two-wheeled tractors.
Chinese walking tractor: our company is the biggest walking tractor factory in china, even in asian. our walking tractor have good quality and good price.